I thought I was on a spring break vacation last week -wow! It was a hot one! I think I only was only inside to sleep. I knew this week was going to be chilly so I put off my kitchen remodel work and allowed myself a week of
working my butt off
pruning, raking, mulching and getting so sunburned that I couldn't sleep at night- when will I ever learn!
Back to the title of today's post: "Look What's trending Now"
Neons
If you are wondering how to change up your decor a bit for spring it's easy! Add a splash of neon color. What I've noticed this year, that is different from previous years, is that the neons are not
highlighter marker
neon- they are classier than that. They are tangerines and jewel tones like amethyst and turquoise. They are the perfect compliment to the more refined
old meets new style
that is emerging.
via
A little bling mixed in with natural materials and textures is "the look"
and it really is fun!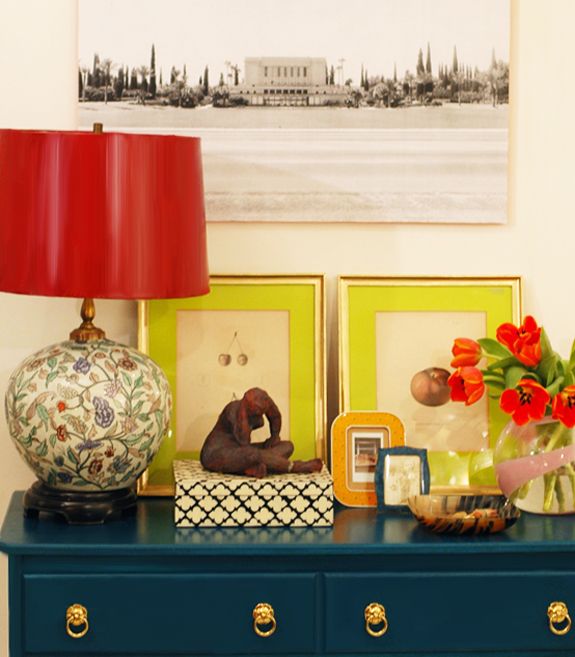 Notice the small details- a brightly colored frame, lime green matted prints
and of course fresh flowers to finish the vignette.
via
Simply adding a couple of brightly colored pillows transforms the look but it's that little Greek key border on the pink pillow that connects both bright pillows with the rest of the space.
Add a brightly colored book or some neon candies in a cut crystal bowl to a "tablescape" and that will do the trick.
Gray, oh beautiful gray, my favorite neutral, is the perfect backdrop for this new neon trend and if you ever wanted to use orange as part of your decorating scheme- now is the time!
Pantone's Color of the Year 2012 is Tangerine Tango
Tina, the editor of the jaw dropping blog
The Enchanted Home
has this traditional needlepoint pillow with an unexpected pop of color as part of an entire collection of gorgeous needlepoint pillows. Do check it out!
Get your neon on! You know you want to :)
...and tell me, what do you think of this new trend?