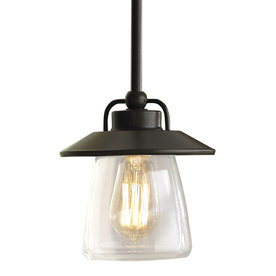 Allen + Roth Lighting
What do you think of that pendant light? It's one of several that I'm considering for over the counter.
I always regretted not putting pendant lights over this counter as part of the last reno. So when the ceiling came down and to be honest- all most immediately, even when we were in the holy crap look how much water has accumulated up here stage, I was thinking - hmmm, new lighting plan! Always a designer! Just to be sure that I wanted pendant lights, we lived with soda bottles hanging from the ceiling for a few days.
I thought it was important to look at them from every angle.
Allen + Roth
In the pendant lights that I can actually afford category, I think the one above is my favorite.
The outside glass looks tinted in the picture but it's not- it's crystal clear.
In the adjacent eating area, I have one of those ever popular brass chandeliers that came with the house. I painted it black a few years ago and added shades. I don't want to have to replace it immediately but I won't let it be a determining factor in what I choose for the pendants.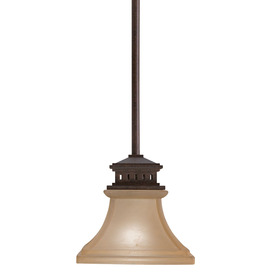 Allen + Roth
I love the shape of this light but I'm not crazy about the color of the shade with where I'm going with the design- which is black and white, shocking I know. I can't help it! I'm a black and white kind of girl :)
When I look at the picture above I see a new stainless wall oven in my future.
Seagull Lighting
This is contender number two. Tough decision! What do you think?
What I see when I look at this photo is a stainless refrigerator to match my new stainless oven. Now picture the lights, hmmm the glass cylinders or the white with brushed nickle, maybe the Edison light-help! Because I think of pendants like jewelery, I'm going to wait until the countertops get in and then decide but I would love to hear your thoughts.
In
Part One
you may have noticed that we built a space for a couple of niches between the kitchen and dining room. You can see one of them in the above photo. Tomorrow I'll show you my ideas for that space.
But for now- Which pendant would you choose?
1. the Edison light
2. the glass cylinder
3. the square shade
4. the white shade and brushed nickle
or
5. stick with the Pepsi bottles :)